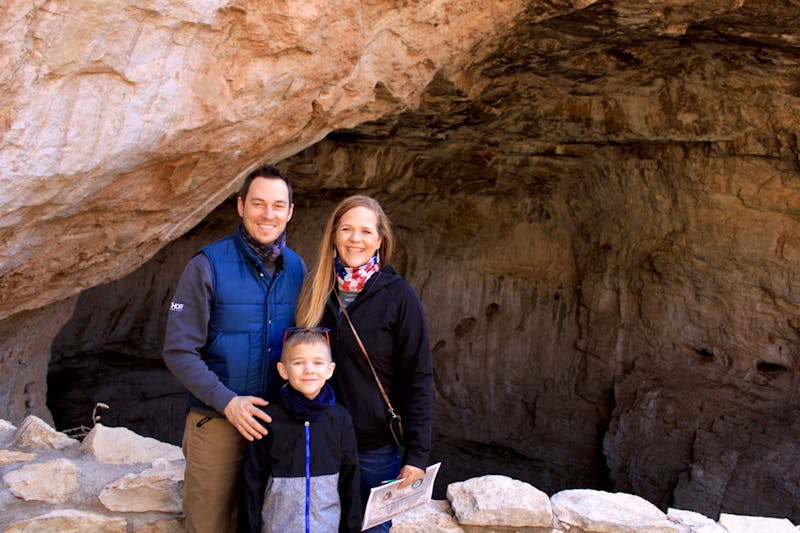 7 Lessons Kids Learn Through RVing
Each milestone, we like to check in with Lou, our son, to make sure he enjoys our lifestyle as much as we do. After our second anniversary celebration, it was time to check in with Lou again. My husband Travis and I try to make sure that although life looks a little different for him, that he doesn't feel like he is missing out on anything in his childhood. This time, when we asked if he wanted to keep living in the RV or get a house, he very seriously looked at us and said, "Only if our friends can live next door."
When we decided to go full-time, we didn't expect to see the benefits we've experienced. We knew it would allow our family to move together easily, as we traveled the United States for work. We knew that it would look different than living in a house. And we also knew that it would give us more time together as a family. But it's been very encouraging to watch Lou grow so much. We've found that it has added value to our life during this time we've traveled together.

1.   Making Friends
Before we sold our house, Lou was active in church and at the YMCA, but we sometimes found it a little difficult for him to come out of his shell. Lou still isn't always as outgoing as he can be, but we've found that he can play with and make friends easier than before we hit the road. He sees advantages in meeting new friends. At first, he was hesitant because he thought it would be a short-lived friendship. He's now been able to experience meeting up with friends on the road and loves having time to play with friends that are states away through online games. One of his favorite things to tell people is that he has friends across the country!
2.   New Experiences
I've learned that one of the favorites for any traveler is experiencing new things. Experiencing them together as a family has been so rewarding for us. Lou has crossed off visiting more states in his nine years than I was able to until, well, the same time that he did. With visiting as many states as he has, he's been able to hike in the Rockies and eat beignets in New Orleans. He'll say things like, "Where has this been all my life!?!" and make us laugh. It is very rewarding to watch him experience things that our sticks-and-bricks house wouldn't have offered.
3.   Learning History
Lou's least favorite subjects in school are history and geography. It seems very ironic, considering how he lives life. But he just doesn't like reading about the places and the past from a book. He's bored and you can see his mind wander. But if we apply what we've been learning to the places we've been, he's able to see it all come alive. Lou loves discovering museums at the different places that we've visited. Through hands-on learning, he's been able to see the history of the Gold Rush in San Francisco, learn about the forming of the Carolinas at Charles Towne Landing, and even be able to press a page with a replica of the Gutenberg press. Seeing history in action has always been one of my favorite ways to learn, and Lou is also enjoying learning that way!
4.   Go with the Flow
On one of our first trips, I locked Lou, our dog Dixie and myself out of the rig. Travis had been out of the campground for work and wouldn't be back until lunchtime. Instead of complaining, I used that as a learning opportunity for both myself and Lou. Sure we hadn't brushed our teeth and still had our pajamas on, but we spent a full three hours playing on the playground together (before doing school!). After that small setback, we adopted the motto of "Life's an adventure." We use this motto to remind ourselves that we don't have problems, just opportunities to find solutions. Learning something like this is a mindset I'm still trying to apply to my everyday life, especially when things go wrong. I'm hoping that this is an outlook that Lou has for his adult life.
5.   Visit Family More Often
If you ask Lou what his favorite part about our lifestyle is, he'll tell you that he loves that our RV takes us to visit family more often than when we had a house. We have family in multiple states, and it has been a huge blessing to visit them more often with our flexible living situation. We've loved being able to park our motorhome in the driveway and spend quality time with our family.

6.   Getting Outside
Living in an RV, you don't have a lot of space. Although some may see that as a downside, we see it as a chance to spend more time outside. Whenever we have the opportunity, we go outside. Lou loves to explore the different parks, beaches, pools and climb trees whenever he can.
7.   Unexpected Surprises
Because we travel for work, we don't always get to pick our destinations. We don't allow this to be a setback; instead, it's been a fun surprise. Unlike traveling for vacation, we've been able to immerse ourselves in the area that surrounds us. RV parks have allowed us to meet people who live in the area and give us the locals' favorite spots. Even from well-known tourist spots, we've enjoyed being pleasantly surprised by what they offer.
We continue to see the endless possibilities traveling this way offers and the positive values this way of life helps instill in Lou through our many miles from coast to coast.