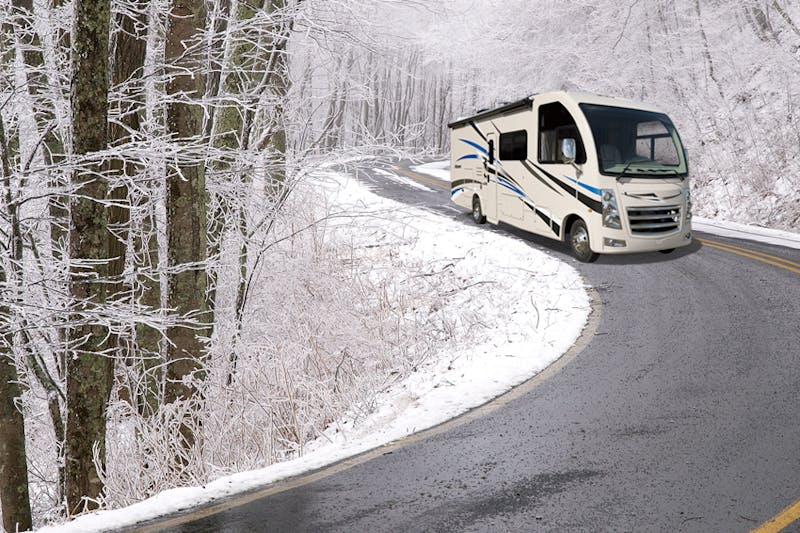 Six Tips for Winter RVing
There are many fun activities to enjoy outdoors during winter. If you can brave the cold and have the appropriate clothing and gear, you can be sure to keep active year-round. Skiing, snowboarding, ice fishing, snowmobiling and even hiking can lead you to beautiful, snowy landscapes. Even though these winter wonderlands boast natural beauty, they are also more perilous to reach. Here are six tips for driving your motorhome in winter weather.
Protect Your Motorhome's Plumbing
Take care and winterize to protect your motorhome's plumbing. Before you leave, apply heat tape to pipes and connections to keep them from freezing. Add antifreeze to holding tanks and use internal water tanks over external hookups. When you reach your destination, use RV skirting to help keep blustery winds away from your plumbing and other external components. Vegas® RUVs™ provide optional and standard features to ensure your best winter experience, such as:
Optional holding tanks with heat pads
Onan® gas generator
Heated/remote exterior mirrors with cameras
Make sure your tires are in good condition. If you do not have tires specifically made to be used in snowy conditions, then consider investing in some. It's a good idea to also get tire chains for icy conditions – especially on mountainous roads.
Practice Driving Before Your Trip
Practice driving and maneuvering before your trip. Chances are, this is not the very first time driving your motorhome, but it may be your first time attempting to drive it during the winter. Most RVs are rear-wheel drive, which may differ from the way your vehicle reacts in slick conditions. Make sure to familiarize yourself with how these Aria® features affect drivability:
I-beam front axle with 55º wheel cut
Cummins® engine with 360HP and 800 lb.-ft. torque
Full air front & rear drum anti-lock brakes
Place fresh batteries in all smoke detectors and carbon monoxide detectors, especially if you plan to run a space heater inside your motorhome. Take care and protect your motorhome's battery from direct cold wind on the underside of your RV.
Use Common Sense & Be Prepared
Use your best judgment and do not drive if conditions are not safe. This includes being prepared by bringing extra blankets, propane, a shovel, snowmelt, clothing, water and anything you might need if you become stuck or stranded in inclement weather. Chateau® Sprinters may be easy to drive and handle more, like your main vehicle on the road, but they pack in plenty of storage for all your cold-weather gear like:
Exterior Mega-Storage™ compartment in 24BL
Lighted rotocast storage compartments
Leatherette booth dinette with storage drawers in 24DS
Diesel Fuel Additive (if applicable)
If you have a diesel pusher, use a diesel fuel additive to prevent gelling. During winter, most fuel stations already have these added but if not, you can add your own.