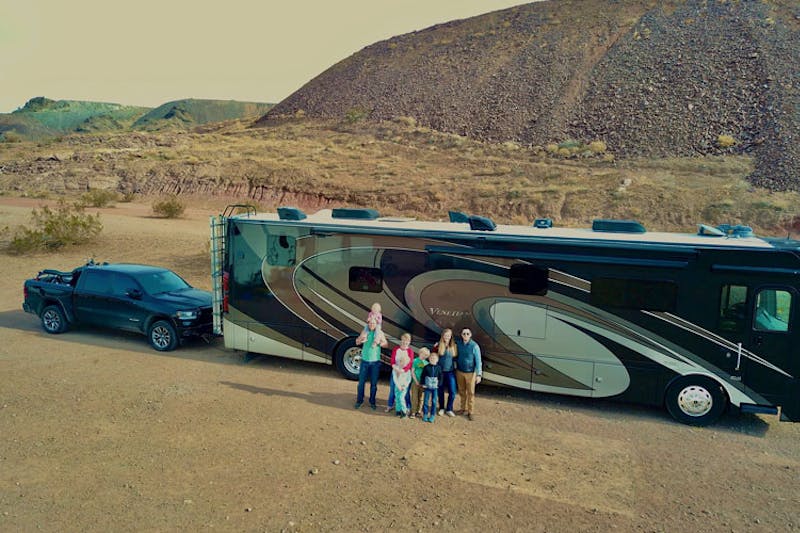 5 Tips for Making and Keeping Friends on the Road
One of the biggest questions that we received before hitting the road was about community. How would we make sure to keep Lou engaged and social? Would we have the community that was necessary on the road? Could we keep relationships strong while traveling? These were all fair questions and ones that we knew wouldn't be a problem.
We had the privilege of meeting a full-time family before ever deciding to sell our home and hit the road. Though the initial meeting was over a stressful situation (our dogs didn't get along, to say the least), we could easily fall into a friendship with the family. After only a couple of playground meet-ups, we found ourselves quickly making plans to attend different events around town and have dinner. Thanks to this initial week in North Carolina, I was positive there wasn't a situation out there that we couldn't make new friends. It was only a few trips in with our first rig, but it all seemed to all make sense. I remember driving away from that campground almost three years ago, looking at Travis and saying, "I know this is crazy, but…" and that began the journey into selling our home and moving into our RV.
So, what do we do to make sure that we make and keep connections like this?

1.  Be intentional.
This is the most important thing that we were told when we started on our full-time RV adventure. To make friendships -- and keep them -- you need to be intentional both with new and old friends. It's quite easy to go weeks without reaching out to anyone or being social. Between planning the next travel day, exploring the new area or just the mundane tasks of school, work and everyday chores, there can be a lot of time between interactions if you're not pursuing it.
We try to be extremely intentional, especially with old friends. When we are "home," we reach out to get together with friends over dinner or at the playground. We even invite them along on our journeys, which has offered an exciting and unique twist! Since we've started RVing, we've been able to go to Waco with a dear friend for a meet-and-greet of some YouTube RV families and take my sister to Galveston for a fun beach weekend. These memories are ones we are forever grateful for and so excited that we've been able to experience them with the ones we love.
Being intentional may also mean putting on a few extra miles to meet up with friends. We make stops along our path to meet up with family and people we've met on the road during our travels. Some of my favorite trips have been these additional stops. This year we were even blessed enough to vacation with another RV family and old friends from Texas while we were in Arizona - and sneak a trip in to visit Travis's aunt, uncle and cousins!

2.  Pick the right campground.
Each campground has its own unique charm, but we've found that it's important to pay attention to what kind of campground you're staying at if you want to make new relationships. We've found that campgrounds that cater to families, such as KOAs, Thousand Trails or Jellystones, offer us an easy experience to get together with others. These campgrounds often have programs for the kids to enjoy during their peak times like weekends, holidays and summer. It allows the children time to get to know each other and let a relationship blossom.
While picking campgrounds, we also look at the amenities that they offer. We know that a campground that offers a pool or a playground will attract more families than one that does not. Although we don't always stay at these parks, we try to balance it to allow some kid playtime for Lou. Playgrounds are great ways to meet other parents as well. The kids can run around and play together while we sit and chat.
3.  Join a club.
It feels like today, there are a million different clubs out there to meet up based on your rig, hobbies and even a specific attraction that you may want to visit. Clubs such as Fulltime Families, Thor Diesel Club and Escapees offer people rallies. During these rallies, you're able to meet with like-minded people and enjoy different activities or areas together. Although we haven't been to a rally yet, we've enjoyed the benefits of smaller meet-ups in campgrounds through these groups. They offer an immediate sense of connection and allow friendships to flourish. Through these groups, we've been able to enjoy coffee get-togethers to talk about work and homeschooling or late-night fires and s'mores.

4.  Use social media.
I know this seems like a step back if you want to enjoy the great outdoors and disconnect but hear me out. We've been able to utilize Facebook, Instagram, RVillage and multiple messaging apps to meet and stay connected with those that we've met. Facebook groups have offered us help with user-error questions on the rig and camping. Many people are eager to share reviews of products and places. I was even able to join a Bible study that met weekly through a Facebook group! These different social media options allow us to connect with new friends in an area we are traveling. And if we spot an old friend posting about a place we're near, we can schedule a meet-up! Messaging apps allow us to stay connected long after we've left. Even Lou can utilize "play dates" through Messenger for Kids and FaceTime.

5.  Get outside.
Honestly, one of the things we've noticed through our travels and meeting new people is that campers are happy, outgoing people. They want to meet you and swap stories! What I've seen is that because your time is limited with campground friends, it seems like you can get to the heart of friendship faster and connect quicker. If you sit down with a fellow RVer, you already have one thing in common - your RV. This instant connection allows for conversations to flow a little smoother. So without our adventures, we know one thing, we would not have made some of our sweet and lasting friendships.