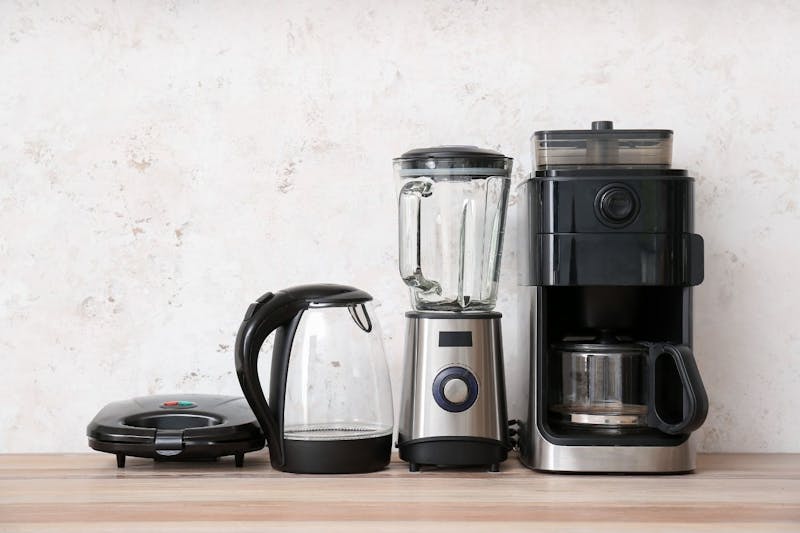 5 Small Kitchen Appliances for an RV
by Vanessa Bouchet.

When people think of camping, they think of two types of campers: The "Roughing-It Camper" and the "Glamper." The Roughing-It Camper is the type to pitch a tent among the trees and cook meals over a campfire. I, on the other hand, am a Glamper. I enjoy experiencing nature and the wonders of the world, but prefer to have a comfortable home-on-wheels with a kitchen, restroom and bedroom.
We, too, enjoy a campfire for tasty treats - but we cook a majority of our meals in our Quantum's kitchen. This blog discusses some smaller appliances to supplement your RV's kitchen. There are pros and cons for bringing each item, and you can decide what's needed vs. what you can live without during your own travels.
1.   Instant Pot
Instant Pot is an excellent option for those families who spend a lot of time away from their rig exploring the destination. As a seven-in-one cooking option, features include a pressure cooker, rice cooker, slow cooker, steamer, sauté pot, yogurt maker, and warmer. We usually bring this appliance with us, because it's smaller and doesn't take up too much space. Instant Pot is a little pricey, at about $90 online, but it was worth it for us. There is nothing better than coming home exhausted and having dinner ready to go.
2.   Air Fryer
An air fryer is a versatile option for travelers who want a toaster, air fryer, rotisserie, dehydrator, roaster, broiler, that can slow cook, reheat and keep things warm. It's another multi-use kitchen item for families that prefer the comforts of home. Depending on features desired, prices range and might not be necessary for some, because many of its functions are available in a larger RV. Our air fryer was $200 online and took up some counter space in our Class C Quantum.
Cooking in your RV Kitchen
3.   Mini Waffle Iron
A mini waffle iron is relatively small and significantly benefits travelers on the road, especially those with children. This appliance is only about $20 online, prepares specialty meals and makes cooking simple for families. You may think a waffle iron only cooks waffles, but there are tons of creative recipes for lunches, snacks and dinners. If this is something your family will use every day or often, it's worth adding to your motorhome's kitchen.
4.   Blenders
Another comfort of home item that prepares a healthy smoothie for breakfast, a blender. Blenders range from $30 to $300, depending on your brand of interest. This another item that you can get creative with for smoothies, milkshakes, dressings and other condiments, soups and more. Before you purchase, think, "Do I need this every day?" If the answer is no, it may not be worth losing space to bring it. You can support your local shop for a smoothie instead.
5.   Coffee Makers
I will never be someone who says, "I need my morning coffee." In fact, I skip the coffee aisle altogether in the store. I know many people will need their morning cup of joe and plan to bring a coffee maker with them on their trip. Coffee makers vary in price from $20 for a traditional coffee maker to $100 for a Keurig. Most coffee makers don't take up too much space and are the best part of a morning routine for daily coffee drinkers.
There are always positives and negatives about bringing items with you during your travels. Our general rule of thumb is if we use it every day, or almost every day, we bring it. If we only use it once or twice, we don't really need it. As always, I would encourage travelers to consider their lifestyle and what they need before purchasing extra appliances.