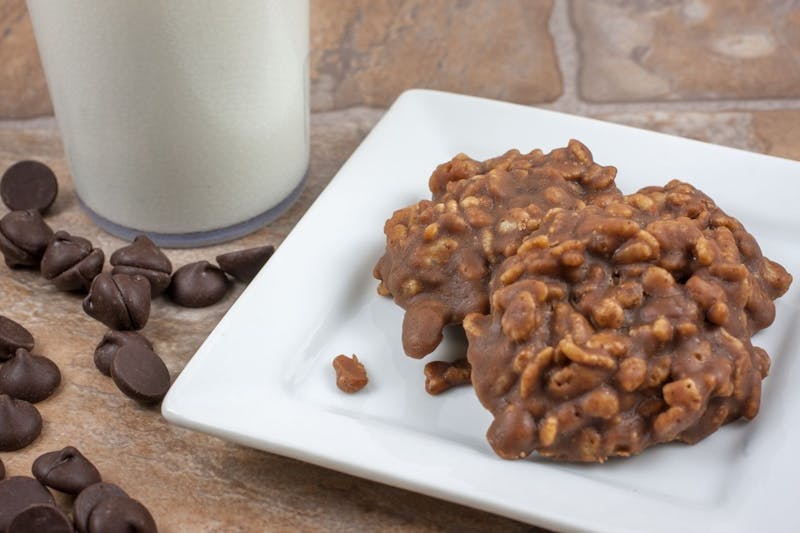 3 Simple No-Bake Recipes for RVers
After what felt like a never-ending winter and slow-moving spring, the summer months are right around the corner. We love everything the season gives us, from the sun-kissed cheeks and blossoming flowers to waterfront fun. But for RVers, summertime poses somewhat of a challenge to keep the motorhome cool, especially when cooking in an oven. That's why this week, we're sharing three delicious no-bake recipes for those stubbornly hot months.
1. No-Bake Peanut Butter Chocolate Cookies
There are many recipes for no-bake Peanut Butter Chocolate Cookies out there, but we're going to share our version. You can make this with ease in your camper van. All you need is:
½ cup of butter
2 cups of granulated sugar.
½ cup of milk
¼ cup unsweetened cocoa powder
½ cup creamy peanut butter
3 cups quick oats
2 teaspoons vanilla
Pinch of salt
Combine the butter, sugar, milk and cocoa powder in the pot and heat it on the stove until it comes to a boil for one minute. Remove the mixture from heat and add the peanut butter, oats, vanilla and salt. With a spoon, dish out the amount you like and flatten it to give it that cookie shape - or any other shape you'd like. Simply let the cookies air at room temperature until they're firm, cool, and ready to be consumed!
2. No-Bake DIY Rice Krispie Treats
Sure, you can buy Rice Krispie treats at the store, but why not get the kids together and make them in your Class C RV? This is a simple no-bake recipe for the whole family involved. Here's what you'll need:
5 tbsp butter
2 cups of marshmallows
6 cups of Rice Krispies cereal
Large saucepan
Baking dish
Foil
Cooking spray
Toppings of your choice; Our choice is M&Ms.
Although you'll put these in a baking dish, you won't have to put them in the oven. First, you'll prep that baking dish with foil and cooking spray. Melt the butter in a saucepan and add the marshmallows. Then add the cereal and mix thoroughly and put it in the baking dish. Coat a spoon in the cooking spray and press the mixture until it's level. Once it's cooled, you can add your toppings - ours are M&Ms - and it's ready for the little ones to eat.
3. No-Bake Cheesecake
This no-bake recipe is perfect for a special occasion or just an afternoon you're craving a delicious cake right from your toy hauler's kitchen. There are only a few more ingredients than the other recipes required:
Graham crackers
5 tbsp butter
¼ cup of granulated sugar
Salt
1 cup of heavy cream
8 oz of cream cheese, softened
¼ cup sour cream
1 cup powdered sugar
1 tsp vanilla extract
1 tsp lemon juice
Optional: Raspberries and blueberries
First things first, let's make the crust. In the large bowl, mix together about 1 sleeve of graham cracker crumbs, granulated sugar, butter and a pinch of salt. Then, transfer it into an 8-inch dish. This next step is a bit of an arm workout: For about 4-5 minutes, beat the heavy cream. Next, mix the cream cheese, sour cream, vanilla, lemon juice, powdered sugar and another pinch of salt before adding in the heavy cream. Now, you have your filling. Add it on top of the crust we prepared earlier, and let it sit in the refrigerator for about 4 hours. Put raspberries and blueberries on top, and now you have a tasty summer dessert.
Make these No-Bake Camping Recipes in a Thor Motor Coach

Tuscany Class A Diesel Motorhome
Tuscany has the ultimate kitchen for making delicious no-bake camping treats. There's a generous amount of counter space and a hardwood pull-out storage compartment. The residential refrigerator has plenty of room to store the no-bake cheesecake for a few hours. At the end of the bo-bake cooking session, there's even a residential dishwasher in this Class A diesel pusher.
Miramar Class A Motorhome
Miramar comes with everything you need to make at-home Rice Krispie treats and peanut butter chocolate cookies. The two-burner high-output gas range cooktop will make quick work of melting those marshmallows. There's a pantry to keep all of your no-bake ingredients. At the end of the evening, quickly clean up in this Class A RV with the large stainless steel double-bowl sink with a pull-down sprayer.