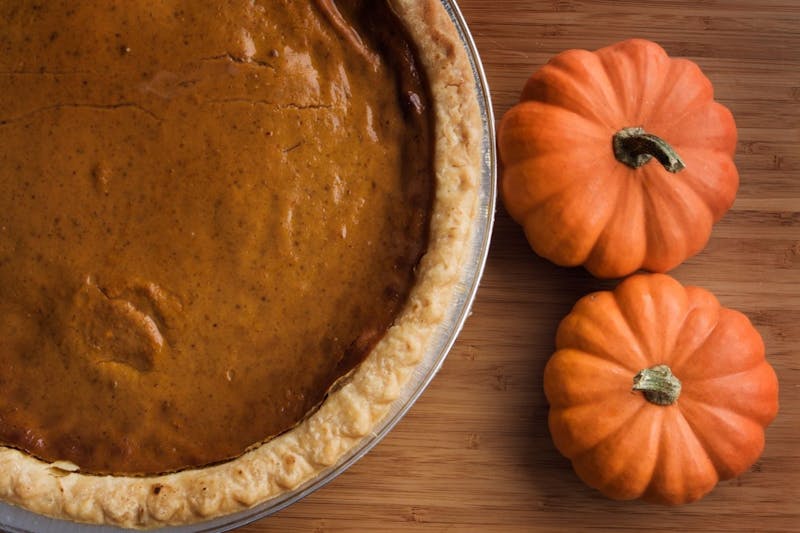 3 Easy Bake Desserts for Thanksgiving
Save time this Thanksgiving and give in to your heart's desire for dessert before the turkey and ham this year. We've discovered a few dessert recipes that are simply delicious! As campers, we don't always have a lot of time to bake large, complicated sweet treats. However, that being said, we can still create a classic dessert to satisfy our sweet palate. 
Pumpkin Pie Pops
This delicious recipe combines the best of both worlds: pie on Thanksgiving and bite-sized cake pops that are mess-free and easy to bake. Plus, they taste great too! If you are feeling trustworthy of your local bakery, you can pick up a pumpkin pie first and skip the rolling of the pie dough for that perfect pumpkin pie. Either way, these pumpkin pie pops make for a great sweet treat on your holiday.
Courtesy So Yummy on Pinterest
Ingredients
mashed pumpkin pie
toothpicks (chilled)
chocolate melt
ice cream scoop
Directions
Simply, mash up the pumpkin pie and use your ice cream scoop to gather the pie into small, bite-sized cake pops. Chill and then place toothpicks into each of the pie pops. Next, dip the pie pops into melted chocolate. Finish by chilling the chocolate-covered pie pops in the refrigerator once again. Voila! Pumpkin Pie Pops that are so easy even your kids can partake.
Paula Deen's Monster Cookies
This delicious recipe is a tradition every Thanksgiving at our house, and we're sure it will become one of yours once you bite into these soft, easy-to-bake cookies. It's the cookie that never disappoints. There are many monster cookie recipes available online, but as a rule, we trust Ms. Paula Deen for her monster cookie recipe. Once you try them, you will too.
Ingredients
¼ cup raisins (optional)
½ cup chocolate chips
½ cup multi-colored chocolate candies
1 stick softened butter
1 (12 oz) jar creamy peanut butter
½ teaspoon vanilla extract
½ teaspoon salt
1 cup granulated sugar
1 ¼ cups packed light brown sugar
3 eggs
2 teaspoons baking soda
4 ½ cups non-instant quick-cooking oatmeal (sometimes referred to as old-fashioned oats in the can)
Directions
Preheat your oven to 350 °F. Prep your cookie sheets with wax paper or baking mats. Combine the eggs and sugars in a large bowl and mix very well. Next, add the salt, vanilla, peanut butter, and softened butter and mix well with a large spoon. Next, stir in the chocolate candies, chocolate chips, and baking soda. Slowly add in the oatmeal oats and continue stirring. Add in the raisins if desired at this step. Eventually, the consistency will be similar to a sticky, cookie dough made of oats and coated with yummy peanut butter and candies. Drop small spoonfuls of the mixture onto your cookie sheets. Bake for 8-10 minutes. It's important to not overbake these cookies because they burn easily.
Chef's tip: For extra soft monster cookies, bake cookies for only 8-8.5 minutes and let cool on the pan. Cookies will continue to bake on the hot pan outside of your oven for the next few minutes. Afterward, they will naturally cool to room temperature for the ultimate, soft monster cookie. Also, for easy clean-up, use wax paper on the pans while baking.
Ingredients and directions courtesy of Paula Deen recipe and website.
Easy Apple Crisp
Nothing says Fall like the apple, and this easy apple crisp recipe will surely delight your family members this holiday season. So which apples make the best apple crisp? LoveFromtheOven.com recommends the tried and true Granny Smith, Honeycrisp, or Golden Delicious apples. Red Delicious apples are popular at the store, but not recommended for baking.
Courtesy Love From The Oven on Pinterest
Ingredients
1 cup all-purpose flour
1 ½ cups rolled oats instant or old fashioned
2 tsp ground cinnamon
1 cup packed brown sugar
1 cup butter (cold and cut into small pieces)
2 quarts of apples (6-8 large apples, peeled and cubed)
1-2 tbsp lemon juice
1 tsp cinnamon
1 tbsp cornstarch
Garnish - caramel sauce and vanilla ice cream (optional)
Directions
Preheat your oven to 350 °F. Combine flour, oats, cinnamon, and brown sugar in a large bowl and cut in the butter until it has a crumbly texture. Then place this mixture aside. Next, combine the remaining sugar, cinnamon, and cornstarch in a smaller bowl. Prepare the apples by placing chopped and peeled apples into another larger bowl and drizzle apples with lemon juice. Stir gently and sprinkle sugar, cinnamon, and cornstarch mixture from the previous step over the apples. Continue stirring until combined well. Grease and prepare a 13x9 rectangular baking dish and pour the apple mixture on the bottom of the pan. Spread out the apples evenly and top them with the crumb mixture from the previous step. Bake for 45-50 minutes and allow to cool. Serve with your favorites like a topping of vanilla ice cream and caramel sauce! 
Ingredients and directions courtesy of LoveFromtheOven.com recipe.
Best RV Kitchens for Thanksgiving 
Venetian Class A Diesel motorhome
Create your delectable Thanksgiving meal in the Thor Venetian Class A Diesel. This dreamy motorhome features a full residential kitchen. Bake your favorites in the convection microwave oven and bring water to a quick boil on the recessed electric induction cooktop. Plug in all of your appliances with the pop-up outlets. The solid surface countertops allow for plenty of space to spread out all of your ingredients. We also included a double bowl kitchen sink with a pull-down sprayer to make cooking and clean-up a breeze; a dishwasher option is also available. Behind the sink, a decorative tiled backsplash will make you feel right at home. Afterward, stow away leftovers in the spacious, double-door residential refrigerator.
Miramar Class A motorhome
Get inspired to create your best dinner yet in the Thor Miramar Class A motorhome. Prep all meals with plenty of space on the solid surface countertops. Every Miramar comes with a pantry beside the residential refrigerator to store all ingredients for the big day. Bake and create with the convection microwave and quickly serve your loved ones at the Leatherette Dream Dinette® just steps away from the kitchen. Cup holders at the Dream Dinette® keep your drinks secure even with little ones playing nearby. We also included the popular double bowl sink with a pull-down sprayer to make clean-up even easier.