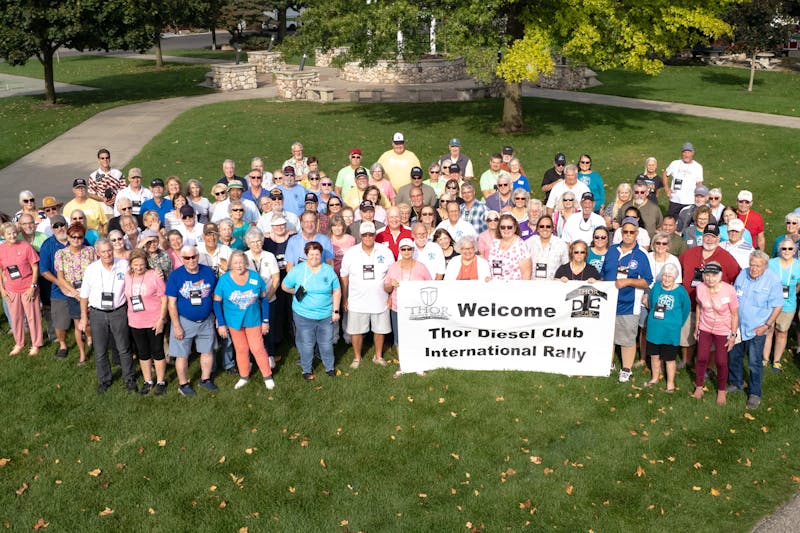 Fueling the Fun: 2023 Thor Diesel Club Homecoming Rally
Thor Diesel Club Homecoming Rally
Buckle up, folks, because the 2023 Thor Diesel Club Homecoming Rally was an absolute blast, and you won't want to miss out on the next one! This year's diesel motorhome extravaganza came to life at the Elkhart County 4-H Fairgrounds in Goshen, Indiana, from October 1 to October 6.
Imagine a gathering of diesel motorhome enthusiasts from Thor Motor Coach, Damon Motor Coach, Four Winds International, and Mandalay Luxury Coach, all under one sky.
This year, the rally was all about embracing your state pride with the theme, "Show Me Your State." Rallygoers went all out, dressing up in costumes that screamed hometown love or decking out their RVs in colorful, state-inspired décor. The fairgrounds were transformed into a vibrant showcase of American diversity, and it was a sight to behold.
However, the real magic of the rally is the camaraderie. It's a time of the year that every club member eagerly anticipates. It's when diesel RV owners come together, forming bonds over shared experiences, both the triumphs and the hiccups of life on the road.
Vickie Rock, a six-year Thor Diesel Club veteran, joined the rally with her husband, Roger Rock. She gushed, "My favorite part about the Thor Diesel Club is that you can talk to others about stuff that went wrong and ask questions like, 'How do I fix that?' or 'How did you resolve that issue?' The camaraderie here and the RV services offered are also big reasons we continue to attend the rallies."
Vickie wasn't alone in her sentiments. Throughout the week, many members echoed her feelings about the incredible sense of community and support found at the rally.
Meet The Thor Motor Coach Diesel Club
Education was also a big part of the rally, with a variety of classes on RV safety and tips from industry pros, including the experts from Cummins®. Whether you were a newbie or a seasoned traveler, there was something new for everyone to learn.
What's even more remarkable is that Thor Motor Coach Customer Service was on hand, performing minor repairs on club members' coaches, regardless of their warranty status. Talk about going above and beyond to keep the RV community rolling smoothly!
As Roger Rock summed it up, "If I had to describe TDC (Thor Diesel Club) in one word, it would be FUN! It's always a great time here!"
In conclusion, the 2023 Thor Diesel Club Homecoming Rally was a roaring success, uniting members in their love for adventure, exploration, and unforgettable experiences.
As Eastern Division Vice President of the Thor Diesel Club, Joe Kuebler, enthusiastically declared, "If you want to get to know other RVers from all over the country, take advantage of motorhome classes and services, as well as have a good time, then join the club!"
If you're a proud Thor Motor Coach diesel RV owner and want to join in on the excitement, don't miss out – sign up today at www.thormotorcoach.com/owners/thor-diesel-club.