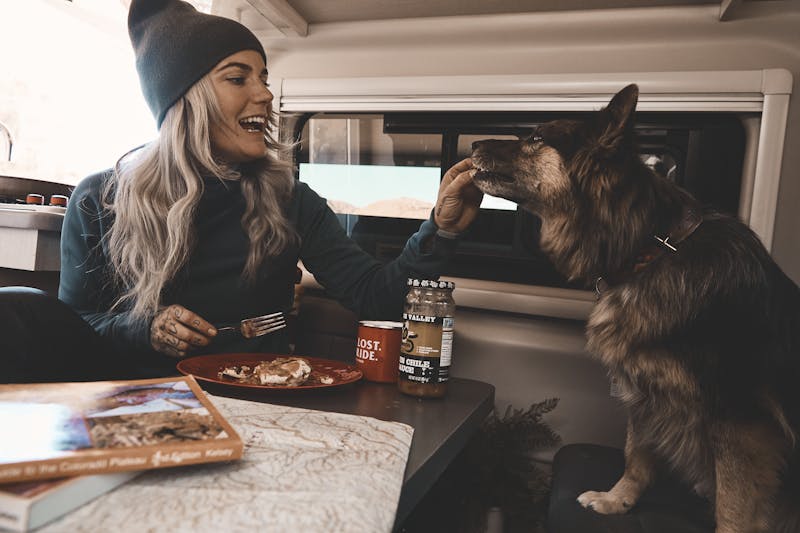 Women are Taking the Lead in Navigating the Open Roads
Men and women alike are often intimidated by the prospect of driving an RV. Let's face it, they are large vehicles! However, we receive a high volume of inquiries from women voicing this concern. We want to empower you to drive more confidently on the open road. Here are our tips to conquer the fear of driving an RV.
Practice, practice and more practice.
Don't allow fear to overcome you, remember this: RVs may be large but you're the one in charge. The only way you'll feel comfortable behind the wheel is practicing from the driver's seat. Find a large parking lot, like a school on a Saturday. Become familiar with the brakes, acceleration and steering wheel. Experiment with how much room you need for left turns, right turns, and even U-turns. Come to a complete stop slowly at first and then practice the inevitable quick stops. Go to a familiar and straight road to practice lane changes and after doing that for a while, practice it as you tow your car behind your Class A diesel pusher.
Keep at a comfortable pace.
Don't let others determine how you drive. If someone is tailgating your toy hauler because they don't like your speed, they'll get around you and vice-versa with the person in front of you. To help get comfortable behind the wheel, play your favorite or most soothing song. If there ever comes a point when you become uncomfortable, simply ask your partner who feels comfortable driving to take over for a bit. If you're a solo traveler, there's nothing wrong with pulling over to the side of the road to collect yourself before getting back on the highway.
Eliminate your blind spots.
Adjust your mirrors for your view. Make sure you aren't stretching or leaning to where your partner had the mirrors last. That's just not safe. The more in control you feel, the more confident you'll be behind the wheel. Also check on the other "blind spots" that you find tricky to see in your Super C RV, and make sure you're in the optimal position to see.
Switch drivers more often.
There's a good chance that your lack of experience, and therefore fear, of driving a motorhome is because you have a co-pilot that's more than O.K. with being behind the wheel. Even if they truly enjoy doing a majority of the driving, switching drivers more often can be a win-win for everyone. If you go too long without driving, you may feel that anxiety creep its way back in. Also, if you have a cross-country trip with a timeframe, it can be comforting for your partner to know you can take over if they get tired or don't feel well. Don't be surprised if your partner suggests you take over the wheel of your Class A gas RV more often thanks to your newfound driving confidence.
If any ladies already feel comfortable behind the wheel, please share your best tips and tricks under our post on our social media: Facebook, Twitter, Instagram, and LinkedIn. Also, submit a picture of you driving your RV to our Happy Camper line at 574-584-2074.
Everyone's RV driving experience starts somewhere, and you can begin yours today in a new 2021 Thor Motor Coach.  
Women, take the lead in navigating the open roads in a Class A diesel motorhome. They may be the largest motorhome class and most intimidating, but they are filled with features that provide some relief behind the wheel. You'll have no problem getting comfortable in Tuscany's new cockpit chairs with integrated headrest and lumbar support, adjustable brake and accelerator pads and the VIP smart wheel. The 15-inch touchscreen dash radio has BlueTooth® and SiriusXM® radio, Garmin® RV GPS navigation and a back-up monitor for your convenience and listening pleasure.  
Class C motorhomes, though smaller than their Class A counterparts, are still larger than your average automobile, which can cause the same driving anxieties. The Tiburon Sprinter comes with the Mercedes-Benz® safety package to ease the driver's mind, including active braking assist, attention assist, active lane-keeping system and distance regulator Distronic Plus. The tilt leather steering wheel with audio buttons to control the 10.25-inch multimedia dash radio allows your hands to stay on the wheel while turning up your favorite soothing song.
New to RVing? Check out our free RVing How-To Guide. 
Questions? Comments? Contact our Coach Link Sales Advisor.
Are you searching for local inventory? We offer a convenient Dealer Locator.