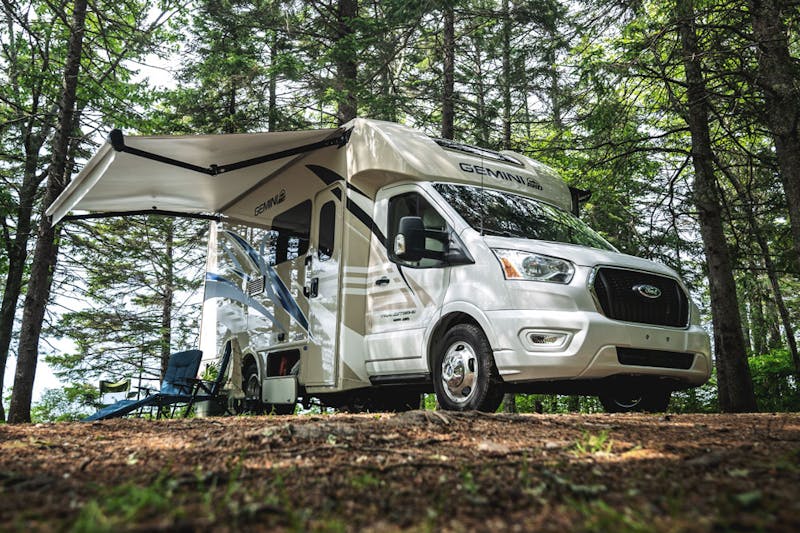 Tips for Booking an RV Campsite
Travel has been on hold due to the coronavirus outbreak, but as parts of the country reopen, we want to help those who are eager to get back at it. Maybe you're new to the RV lifestyle or maybe you've had some bad experiences throughout your travel days, and either way, we want to point you in the right direction. Here are our tips for booking an RV campsite.
Find out where you want to camp.
First things first, make sure the state you wish to travel to in your camper van is open. In the current climate, rules and guidelines could change at a moment's notice, and it wouldn't be very fun to travel to a state on lockdown. However, even if the state is open, it's important that you still follow best practices to ensure you and your loved ones remain safe and healthy. Simply reference the state's website to get the latest news and information.
Do your campsite research.
Now, once you've confirmed that your destination is fair game, it's time to find a campsite. Do your research. Many campgrounds have their own rules. You may not even need a reservation at all if it's a walk-up campsite, it could be first-come, first-serve on weekends and reservation-based during the week, or it might be reservations only. Regardless, it wouldn't hurt to call ahead to check availability, rates and cancellation policies. Find out if their cancellation policies are subject to change if Co-Vid19 cases rise in that area. 
Find a campsite that suits your motorhome.
Don't forget to make sure the space provided is a suitable size for your Class A motorhome when you call to reserve or inquire about the campsite. Have the length and type of your unit handy so you can relay accurate information. You may be asked if you prefer a pull-through space or whether you're comfortable backing in and out of a space and it's best to discuss this with your travel companion ahead of time. Depending on your motorhome, you'll need a 30 or 50-amp full-service hook-up at your site, which you'll want to confirm is accessible from your space.
Campsite amenities.
Make a list of pros and cons to determine the amenities that you find essential versus the ones that you could live without. For example, our motorhomes have fully-equipped kitchens to prepare your favorite Mobile Meals, but only a campsite can provide a swimming pool. Although, some campsites may have certain amenities closed, like a community pool to promote social distancing, so make sure you'll have access to what you see as necessities. Compare the rates, fees and policies. Check the website, photos and reviews to ensure your expectations are met. Finally, weigh out the costs and benefits to find the best option for your location preferences and budget.
Don't wait to book your campsite.
Don't wait. Campgrounds have been closed down, but in many cases, it hasn't stopped some from booking a space online. Unfortunately, campsites don't have an unlimited amount of space for all travelers to enjoy. As you can imagine many RVers, like yourself, are ready to get back to their favorite site, which is causing many campgrounds to be overwhelmed with eager adventurers. 
Have a back-up campsite in mind.
It's always a good idea to have a second option in mind. Although there are plenty of websites that can check and compare availability, if the campsite at the top of your list is first-come, first-serve, there isn't always a guarantee you'll get a space. To increase your likelihood of locking down space for your Class C RV at one of these campsites, it's best to plan ahead and arrive early.
Call your campsite ahead.
With many people eager to get back at it and turning to the RV lifestyle to travel safely, it's important to keep in mind that many of these campgrounds are likely to have social distancing policies in place and may only be at partial capacity. Calling ahead and making a reservation will help to guarantee the great time you're looking for this summer. Don't forget to send us your Happy Camper photos to 574-584-2074 when you get there. 
Ready to camp?
Not already in one of our motorhomes? 
Our Class A RVs are perfect for families and with the Vegas® RUV™, you'll get the most out of your campsite. Setting up camp is a breeze with your Rapid Camp+® multiplex system, your all-in-one control center that will swiftly extend your patio awning. Grab the lawn chairs from your rotocast storage compartments, hook up your grill to the exterior LP connection and enjoy perfect outdoor living.

Learn more about what makes the Vegas RUV the perfect choice for your next camping trip. 
If your family is wanting to spend some quality time together at the campsite, the Chateau® is your perfect match. It's the little moments that bring us closer together. Gather around the Dream Dinette® and share Mobile Meals and favorite camping stories. Everyone will come around to watch your favorite shows live thanks to Winegard® Connect™ 2.0 working as your TV antenna. Your whole family will love this Class C motorhome.