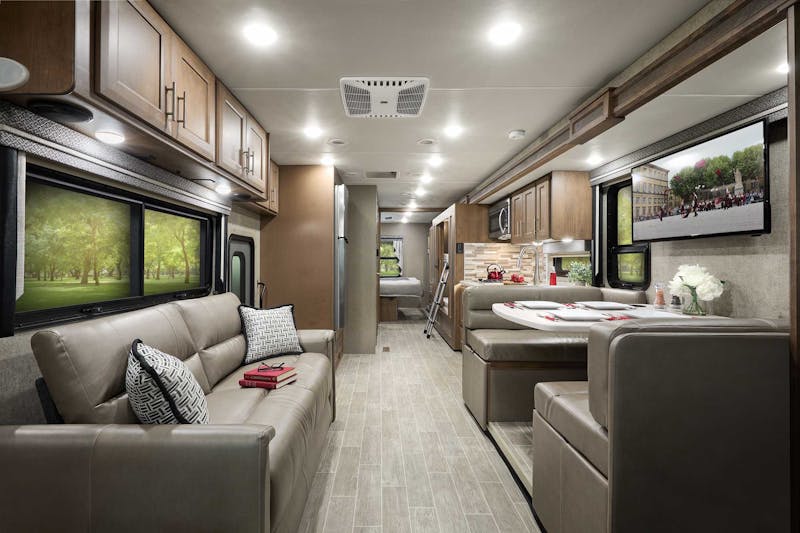 Staying in an RV is better than a Hotel - Here's Why
Pick a date, pick a location and go - that's the beauty of traveling on wheels - but that's just the beginning. 
We've all been there before: cooped up in the house, stuck in the same routines, watching sitcom reruns, going on social media to find pictures of places you've only dreamed of going. You think to yourself, "Maybe someday." But why not tomorrow? No hotel reservations necessary, turn the key and go. Here is why vacationing in an RV is better than staying in a hotel.
Always have a place to stay for vacation.
A motorhome allows you to take a vacation 52 weekends of the year. Too many times, you've seen hotels sold out during prime times of the year or skyrocketed prices. Creating an itinerary for your trip is supposed to be fun, and is even a favorite part for some, but not being able to find a place to stay can ruin all of your plans. With an RV, you can get up and go.
No check-in or check-out times.
Staying in a hotel means specific check-in and check-out times. You might even end up sitting in the parking lot, waiting for that last hour to pass. Your journey can begin on your time when you have your motorhome. Thanks to your RV, you can get a head start on your day, get to the beach before anyone else or bike along the trail without disruptions.
Have your own space.
Speaking of disruptions, no one likes nosey or noisy neighbors. From awkward elevator rides, full continental breakfasts, or people in the room next to you peeking in and making noise, your hotel doesn't allow you to have a private oasis. When you vacation in a motorhome, you're in your own space; better yet, you're in your own home.
Enjoy home-cooked meals.
Home-cooked meals are another perk you can't get out of a hotel. Sure, it's nice to go out every once in awhile, but it can get expensive and unhealthy. In a motorhome, you'll have a residential kitchen, so your ingredients stay fresh and you won't have to veer from your health plan. Plus, nothing compares to the perfect family recipe. If you do need some inspiration or want to switch it up, we created some Mobile Meal recipes for you on our YouTube channel.
Choose your morning view.
When dreaming about your vacation, more often than not, you picture a beautiful, scenic sunrise to wake up to every day. Odds are if you're staying in a hotel, the only thing you'll see outside of your window is a concrete jungle. Thor Motor Coaches allow you to get off the beaten path and choose what view you want to wake up to every morning. If you find a spot and fall in love, you can stay there, but if you want a different perspective each day, you aren't locked into a reservation. You'll wake up not only loving your view but ready to take on the day.
Your home, your cleanliness.
Here's one of the best parts to vacationing in a motorhome: you set your cleaning policies. In a hotel, you want to assume the best, but the truth is, you might not know all of their regulations. Rest your head on your pillow every night, knowing that no one slept in the bed before you. We have it all: bunks, overhead drop-downs, pop-top sleeping areas and Twin-size to King-size beds. Rest assured, you'll love vacationing in your Thor Motor Coach.
Staying in an RV is better than a hotel.
No flights, no rental car, no suitcases, no stress. When you're traveling the country in your motorhome, it will prove itself superior to staying in a hotel. If this doesn't convince you, check out our motorhomes for yourself. Thor Motor Coaches are made to fit you, your lifestyle and all of your family.

Whether you want a Class A gas, diesel or toy hauler motorhome, these are ideal for large families. No more reserving multiple hotel rooms; you can bring all of the kids, grandkids and even the fur babies with you.

The Miramar is a perfect example with features including:
Pet-Link™ Multi-Purpose Tie-Down, which is perfect for keeping your four-legged family members from getting too far out of your sight.
Washer and dryer prep, another advantage to vacationing in a motorhome, you'll be able to stay fresh while getting tan.
Four different floor plans to choose from, with sleeping options to accommodate any size of family, so no one has to sleep outside - unless they want to.
Our Class C motorhomes, available in gas, diesel and toy hauler, are a more size-conscious alternative to a Class A RV, while still providing all of the features that you want out of a motorhome.
The Outlaw will make you wonder why you ever stayed in a hotel, with features like:
Open up the garage, and get out the dirt bike. You already took the road less traveled, but now it's time to kick it up a notch and get off the beaten path.
The ultimate outdoor experience. With the 32-inch exterior TV with Bluetooth® Soundbar and Radio, you can be as loud as you want, there's no one next door.
Most hotels make you pay extra or don't even have an option for a patio, but don't worry, your Outlaw has you covered.
Camper vans are the perfect way to get off the grid. You can enjoy all of the perks of vacationing in a motorhome in a compact and efficient space.
The Sequence will always leave you wanting to get up and go, 52 weekends of the year, featuring:
The compact RAM Promaster® chassis will decide to get up and go even easier because you can park it anywhere - including your garage if you ever decide to come home.
Who knew travel and eco-friendly could go hand-in-hand? Vacation guilt-free, thanks to the GoPower!® Solar charging system.
Be in the middle of nowhere, but be connected. Winegard® ConnecT™ 2.0 WiFi means never having to miss a social media post, text message or email again.