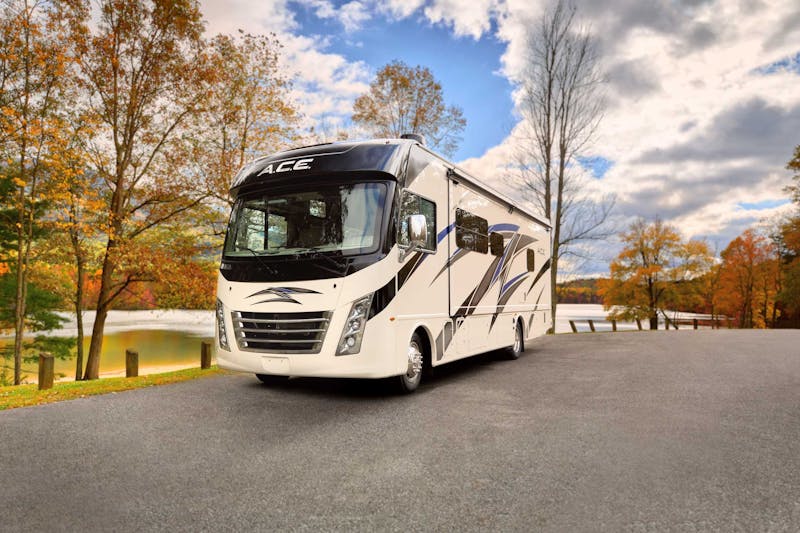 How to Clean and Maintain Your RV's Exterior
We're told not to judge a book by its cover, but you just can't help it when it comes to a motorhome's exterior. To maintain those eye-catching graphics, you must be proactive. Not only does cleaning your RV's exterior turn heads on the road, but it also protects your investment and your loved ones. Continue reading for our best tips to keep your motorhome looking sparkly and new.
Thor Motor Coach Owners' Resource
Before doing anything to your Class C motorhome, it's essential to consult the Thor Motor Coach Owners' Resource for Care and Maintenance Systems Guides and Owners' Manuals document service. These publications provide information for supply resources, tips and how-tos to take care of your Class A diesel RV's exterior paint and equipment. If you still have questions before you begin, please reach out to our Customer Care team.
Routine Washing and Maintenance
Prior to washing, check all the seams, sealants, and windows. It'd be a shame if your Super C motorhome's interior became wet or damaged from any exterior cleaning products. If you find that your sealant is cracking or separating, reseal those areas first. Being proactive about maintenance checks and cleaning routinely is the best way to keep your Class B+ RV in tip-top shape.
RV Cleaning Supplies
Depending on where you've camped, you may have encountered snow or ice, rain, sand, bird droppings and even tree sap or branches. Here are our RV cleaning supplies recommendations:
Low-pressure power washer
Extending soft-bristled cleaning brush or broom
Mild, non-abrasive cleaning solution
Microfiber towels and/or extending brush
Ladder (to get to the roof, if you don't have one already)
Bucket
*Helpful tips:
Before you get started, wash your Thor Motor Coach in the shade to prevent the cleaning solution from quickly drying. This way, your motorhome looks shiny and streak-free.
If you're traveling with others, work as a team. These are large vehicles that take time to clean, which is why it often gets neglected. Knowing that it isn't on one individual's shoulders will be motivating, faster, and ultimately keep your motorhome in better shape.
Cleaning your RV's Roof
Because it's best to work from the top down, we will begin with advice for cleaning your Class A motorhome's roof. First, you'll want to rinse off any grime or droppings with a low-pressure power washer. Using a soft-bristled brush or broom, gently scrub off any imperfections with your cleaning solution, while being mindful not to damage your motorhome's components, including the air conditioner, solar panels, etc. Rinse it off and do a quick maintenance check, and you're ready for the next step.
Maintaining your RV's Awning
Your motorhome's awning protects you from the elements, which means these often catch leaves, sticks and accumulate residue from camping over time. Open your awning all the way. Using your extending broom or getting on a ladder, brush and rinse off any loose debris. Get your cleaning solution ready and begin to scrub. Don't apply too much pressure, as you may damage the awning's fabric or protective coating. Once you get it looking the way you'd like and let it dry, move on to the sidewalls.
Washing your RV's Sidewalls
The process of cleaning your motorhome's sidewalls is similar to the roof. Using a low-pressure power washer, remove any loose dirt or bugs. Get your bucket filled with cleaning solution and start washing the sidewalls with your soft-bristled or microfiber brush. Be gentle when going over graphics and windows to prevent any accidents. Rinse and you're good to go. Your motorhome should be looking sparkly and new.
How to Protect your RV's Exterior
Want to preserve your motorhome's exterior? Frequently cleaning is helpful, but it isn't the only factor in maintaining your motorhome. UV rays can affect the exterior if parked in the sun for too long. If you do store your Thor Motor Coach outside, we encourage you to get a cover meant for RVs so that your rig doesn't look older than it is.
Tiburon Mercedes-Benz Sprinter RV
If you're looking for a dazzling Sprinter RV, you're going to love Tiburon. The full body paint package with gel-coated sidewalls has invisible front paint protection to defend your RV's exterior. The panoramic view from the cab-over head's bunk doesn't only provide plenty of natural light, but it also will motivate you to get out and clean your roof. Rapid Camp+® multiplex system will swiftly extend your two-stage armless patio awning for easy cleanup.
Venetian Diesel Class A Motorhome
If you really want to command the roads, a Class A diesel RV is for you. Venetian comes in four full-body paint color options with black, blue, red and tan accents to find your favorite style. The frameless dual pane windows look sleek and make for smooth cleaning of your sidewalls. An exterior 39-inch TV and patio awning with LED lighting will have you wanting to spend all of your time outside, and serve as a reminder to routinely clean your exterior.