Family-Friendly Camping
August 28, 2020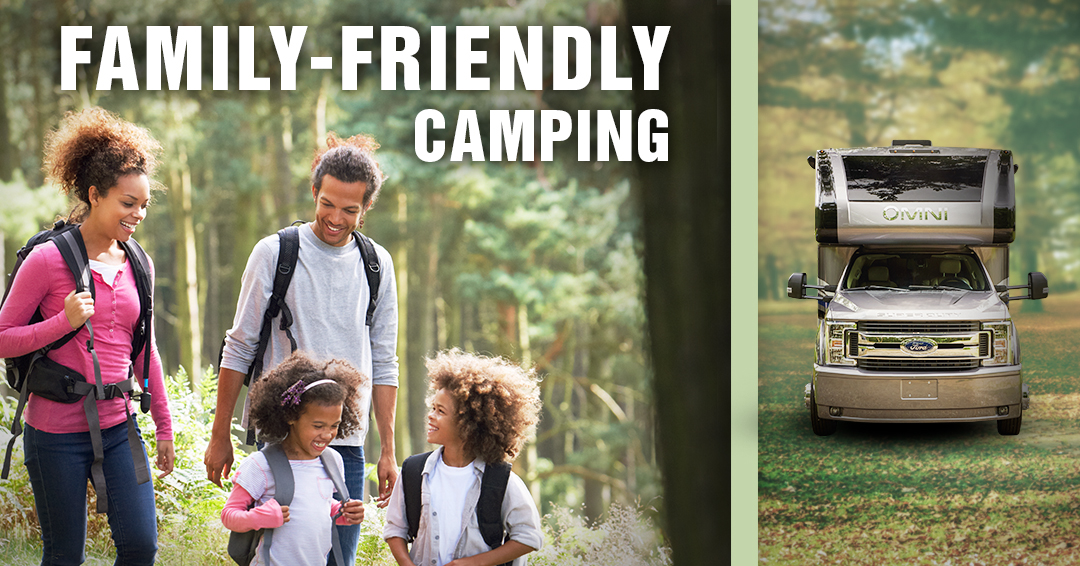 Before summer ends, enjoy another camping trip with your pets and your little ones. Load up your Thor Motor Coach for an unforgettable family trip, when you follow our helpful tips.
Family Camping Nearby
You know you want to go on one last trip in your RUV, but you're not sure where. Luckily, you didn't have to book a hotel, so you don't have a deadline. Check out the AllStays Camp and RV app to find campgrounds, RV parks and all related services. With or without an internet connection, find out details including navigation, reviews and amenities, such as a pool or playground for the littles ones, and so much more. This app has a one-time cost but can save you so much money on your trip thanks to the extensive filters.
Easy Camping Meals for the Family
Families of all sizes may wonder what's for breakfast, dinner and everything in between while camping in a Sprinter RV. Plus, there may be a bit of a learning curve for new motorhome owners to get used to a convection microwave oven. Luckily, our team here at Thor Motor Coach has an entire YouTube playlist dedicated to Mobile Meals. You'll find a variety of healthy recipes, dinners for the whole family, desserts, lunches and appetizers to share at the campgrounds.
Family Camping Games
Family games for the drive
When camping with the little ones, you don't need video games to enjoy each other's company in your camper van. Although we love those games, we're going to focus on the classics that seem to be last behind in the digital age. A great way to deter little ones from saying the typical, "Are we there yet?" during the drive is the alphabet hunt on the road. Take turns looking at signs for street names, businesses and attractions that begin with A and continue until you get to Z.
Family games at the campground
Board games and puzzles are great for rainy days, but the beauty of camping in your toy hauler is getting outdoors. If you have ample space, try red light, green light for a race to the finish line or flashlight tag for some late-night entertainment. If you want to laugh, play the classic Simon Says game. A wilderness scavenger hunt is fun during a nature walk and can be a great way to work together, instead of a competition.
Family Camping Vacations
Having a Class C RV is perfect for family-friendly camping all year round. Travel from Florida to Alaska, Maine to California and everywhere in between with your little ones. There isn't a better bonding experience than to get the family together road trips and camping. Take a weekend trip to a national monument, or enjoy your summer traveling to various national parks. You can even turn these little road trips into a full-time education for your children.
Family Camping Checklist
Besides the campsite activities, personal items, kitchen and bathroom essentials, part of your camping checklist should consider what you're looking for in a motorhome. Consider sleeping and riding capacity when looking at motorhomes, so you know all of your loved ones and guests and come along for the ride. Here are a couple of our Thor Motor Coaches that you should consider in your journey to find a motorhome that is made to fit:

Venetian Diesel Class A Motorhome
If you're in the market for a family-friendly Class A motorhome, you'll love the Venetian. The 2021 floor plans have a design with large families in mind, including the B42 floor plan with nine seat belts and room for nine to rest after a long day of red light, green light. Parents can enjoy the journey from Maine to California in the cockpit chairs with integrated headrests and adjustable lumbar support. On rainy days, enjoy your favorite board games at the large Dream Dinette®.
Innsbruck Full Body Paint Exterior | Color Options       Studio Collection™ Moonraker Interior | Gallery

Omni Diesel Class C Motorhome
Super C RVs are perfect for bringing the whole family along, including the Omni. You're going to love to cook family-friendly camping food in the fully-equipped kitchen with a residential refrigerator with an ice maker, two-burner gas range cooktop and the over-the-range convection microwave. All Omni floor plans sleep eight people, with the BB35 bunkhouse model sleeping 10. It's simple to travel from one national monument to another with the new 10-speed transmission with selectable drive modes, including normal, tow/haul, eco and deep sand/snow so that you can take your family camping through all seasons.
Sahara Slate Full-Body Paint Exterior | Color Options    Black Diamond Interior | Gallery
New to RVing? Check out our free RVing How-To Guide. 

Questions? Comments? Contact our Coach Link Sales Advisor.
Are you searching for local inventory? We offer a convenient Dealer Locator.